How We Met
It all started one fateful evening during our freshman year at Texas A&M. As luck would have it, Katie and Shawn were in the same Zoology class. Each of them were preparing for an upcoming test in their own unique ways. Katie was studying diligently in the "common area" of the Commons. Meanwhile, Shawn was persistently procrastinating until the last minute. As luck would have it, Shawn saw Katie and remembered her from class. Shawn, somewhat bravely, approached Katie and started what would be the first of many wonderful conversations.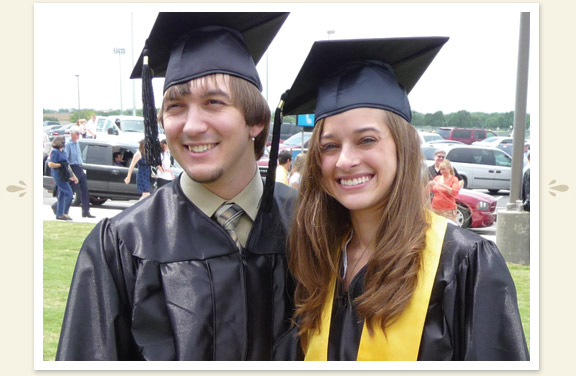 However… timing is everything.
Katie was not available, and Shawn moved on as nothing more than Facebook friends with memories of a wonderful chat.
On December 18th, 2005 Shawn attempted to contact Katie via Facebook to wish her a happy holiday weekend. The only reply was silence, which would last for almost a year (Katie staunchly denies that she missed this message!).
It was Facebook, again, that allowed Katie and Shawn to reconnect in October of 2006. Katie was now single, and her status message had changed to reflect her current mood… which was hopeful, but sad. At the same time, Shawn was purging his friend list of acquaintances that he never spoke to when he happened across Katie's message. Instead of deleting her too, Shawn decided that this would be a good time to send her a quick hello, just to see how things were going. That is how, on October 18th, Katie and Shawn started a conversation. Over the next two months the conversations would last longer, and the two would stay up later and later.
This continued until late November, when Katie mentioned that she was missing home cooked meals. Shawn gathered his courage and offered to help her out with that. And so… Shawn met Katie face to face for the first time in almost a year on November 28th, 2006. He grilled steak (later he would find out Katie wasn't the biggest fan of steak, in general) and whipped up mash potatoes and french green beans to go along with it. Katie was an absolute delight, dazzling Shawn with her wit, beauty, and genuine smile. As Shawn would say later, "she spoiled [him] with her charm."
That night it became fairly obvious where things were headed for this couple. Shawn could not even wait for her to leave before asking her out on a date. Thus, their first date was set for December 2nd, 2006.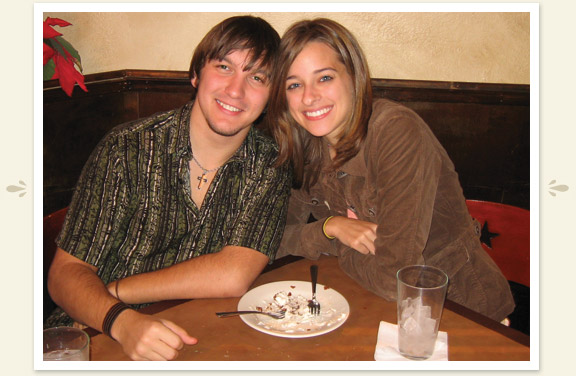 Our First Date
Katie had no idea where Shawn would be taking her on their first date. All she knew was that it was fairly dark out, and he was driving further and further out of town. A cold front had just arrived the day before and the temperature had dropped to below freezing. Katie was not that worried… as long as wherever they were going was warm!
In the distance ahead lights appeared over the next hill. Katie recognized the glow almost immediately as Christmas lights! She admired them wistfully, as Christmas was her favorite time of the year. Truly, Katie would be happy preparing for Christmas as far in advance as September. Shawn looked over at Katie and started to smile.
They arrived at a place called Santa's Wonderland. This is a Christmas Village, set up on a few acres of land, with upwards of 2.5 million Christmas lights on display in various scenes. It came complete; live music (in this instance, an Elvis impersonator), a snowmaker, Christmas shops, and a fabulous hayride.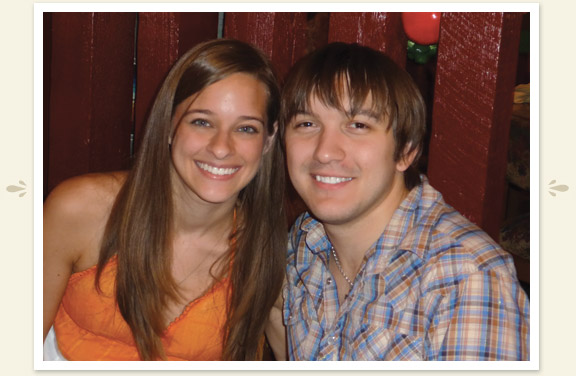 Neither of them could have asked for a better night. It was the night that set the stage for the rest of their lives together. Little did they know, they would return to Santa's Wonderland every year, on their anniversary, to relive their first date and reminisce about the wonderful times they have enjoyed together.
Years later their lives would be altered again at Santa's Wonderland, when Shawn would propose.
The Proposal
Shawn and Katie arrived at Santa's Wonderland for their third anniversary. Life had changed quite a bit since their first time here. Shawn and Katie both had full time jobs, and college seemed like a distant memory.
This time would also be different for other reasons, mainly related to the small box that Shawn had tucked away in his coat.
The engagement ring contained a diamond that had been passed down in Shawn's family from his great, great grandfather. This man was a jeweler, and had originally set the diamond in a ring of his own. Since then, it had been passed down until it was given to Shawn by his father; and now, Shawn intended to give it to Katie.
The evening started off like many evenings before it. Shawn and Katie grabbed cups of hot cocoa and perused the different shops in Santa's Wonderland, all the while chatting about old times and great memories. Occasionally Shawn's hand would slip nervously into his coat, just to make sure the little box was still there.
After watching a bit of a classic movie that was playing, they decided to jump on the hayride and visit the trail of lights. It was one of the best experiences yet. The young couple snuggled on the hayride (while Shawn became more and more nervous as he tried to shift the box around to a less noticeable pocket) and enjoyed the show that went by all too quickly.
When they got back, they went to go finish the evening down by the big bonfire and listen to some of the live music playing in Santa's Wonderland.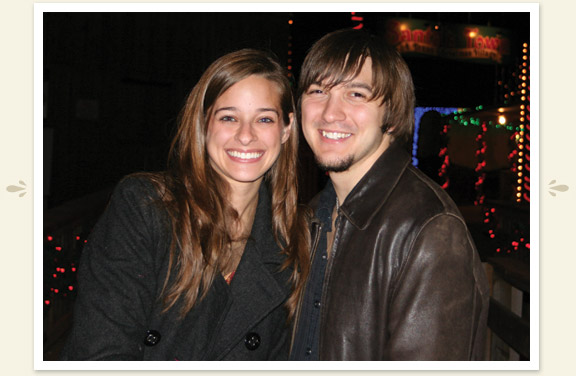 This was the moment, it was now or never. Shawn had prepared a beautiful speech which he had rehearsed countless times in his head. It had everything he wanted to say in it. How wonderful and rare someone like Katie was. How he would do anything just to make her smile. How he knew times wouldn't always be easy, but that he was dedicated to being someone that would be there through it all. He even had a few comical references to their first date thrown in for good measure.
Unfortunately, when he looked into her eyes that night as they sat by the bonfire… he forgot everything he had planned to say. Shawn could not remember a time in his life when his words had failed him!
His heart started to beat furiously in his chest as he tried to regain his composure and remember what he had planned to say. Then, he realized that it didn't really matter. As Shawn got down on one knee he spoke from the heart when he said, "Katie, you are the most caring, passionate, and wonderful woman I have ever met. I never dreamed that someone like you existed."
He took a deep breath and continued, "I had more I wanted to say… but you are the only person I know that can take my breath away--and all of the words that come along with it. Katherine Marie Laird, will you marry me?"
With that, Shawn presented the ring that had been hiding in his coat all evening long.
The Wedding
I suppose you know how it went after that! Here, almost another year later, Shawn and Katie are so thankful to have each other, and all of their close family and friends who want to share in their special day.